Skip to Content
Mike Counsil Plumbing
Benefits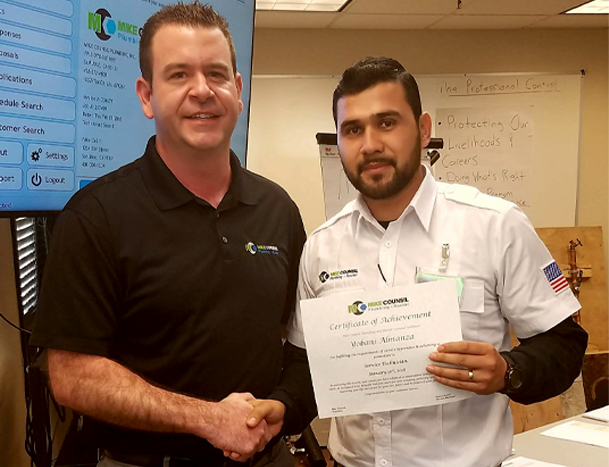 We Care About You, and Your Family
If you are interested in joining our team as one of our plumbing technicians, we'd like to take a moment to let you know more about what it would be like working in our trusted, family-owned and -operated business. We believe we can have a healthy and productive work environment by ensuring our employees and their families are taken care of, which is why we're proud to offer you a wide range of benefits if you join the Mike Counsil Careers team.
It is important to note that since our inception over 20 years ago, we've been constantly striving to provide our dedicated client base,  throughout Silicon Valley as well as the Tri-Valley and East Bay area,  with plumbing jobs that always meet our three primary characteristics: First, Quality, Second, Reliability, and Third 100% Satisfaction Guarantees.  We're able to achieve these through the amazing work of our dedicated and qualified plumber technicians, all of whom are capable of handling a truly impressive range of plumbing jobs, due to their extensive training and professionalism. By installing and repairing pipes, water heaters, and much more in both residential and commercial properties throughout the area, our plumbers have made us who we are.
Company-paid health plan:

Your health, as well as your family's, is important to us. We provide coverage for your health insurance, so you can rest easy knowing you're secure in the event an emergency comes up.

Company-paid life insurance plan:

While no one wants to think about the worst, it's important to be prepared for all scenarios. That's why we offer life insurance plans to make sure you and your loved ones are taken care of and are financially secure in case the worst happens.

Paid vacations:

Everyone needs time to fully unplug and distress—which is why all employees get a set amount of paid vacation days! Whether you want to simply stay at home for the weekend or go on a vacation with friends, your vacation days will be paid.

 Gym Membership:

At Mike Counsil Plumbing, full-time employees are offered gym memberships as we strongly believe that a healthy workforce leads to a happy workforce.  It brings us immense satisfaction to contribute to the health and well-being of our team members.
Paid training:

While you will bring in your own unique and invaluable skills to the table, we require all new employees to gothrough our training. All hours will be compensated, including any additional hours down the road when we introduce new equipment.

Employer match retirement plan (401k):

We will match a certain percentage of your contributions for part of the salary you contribute toward your retirement account.

Company vehicle:

Employees never have to worry about having to use their own vehicle for work. We will provide you with all the equipment and materials you need, as well as a vehicle for company usage.

Promotions within the company:

We always keep our eyes open to see who has the most potential, and we're constantly on the lookout for employees who have what it takes to grow and climb the ladder. Your opinion is always valued, and we welcome open communication for the good of the company.
Search Jobs
Browse our open positions.